al protection for your data. Easy collaboration for your business. Solid investment for your company. The LaCie 5big Office+ brings professional backup to your small office in record time. It features the industry-trusted Windows Storage Server 2008 R2 Essentials and a powerful 1.6GHz Dual-core Intel 64-bit Atom processor. It provides full data protection, superior data sharing for your office and offsite parters, easy integration, and low maintenance.

Powered by Windows Storage Server 2008 R2 Essentials
Familiar environment, bullet-proof reliability.

No-Compromise Hardware
Powerful hardware to support powerful software.

Complete Data Protection. Simplified.
Protection against any calamity, including human error.

Sharing Done Right
Back up any OS and share files with anyone via the Cloud.

Easy Integration. Low Maintenance
Get up and running fast, with convenient hot-swappable disks.

Powered by Windows Storage Server 2008 R2 Essentials
The industry-standard operating system
Go with a professional backup system for your small business. Go with what you know. The LaCie 5big Office+ is powered by the industry-standard Windows Storage Server 2008 R2 Essentials. Get up and running in a flash with a straightforward setup process and a familiar Windows environment.



Make the most of your capacity
Go for a NAS that grows with your needs and lets you do more with fewer gigabytes. No need to back up the same files, such as email attachments or system files, for several employees. These redundant data are a waste of space. Thanks to its PC backup data deduplication feature, the 5big Office+ will only back up a single instance of redundant data. This lets you not only optimize your storage space, but also increase backup speed. Smaller backups equal faster backups and more available storage space.

A cost-effective, professional solution for small business
It's no small feat to find a professional backup solution for a small office on a budget. Capable of backing up 25 PCs, the 5big Office+ is the ideal choice for your business. Opt for the single-drive version and add additional drives* as you need more capacity. Reduce your investment and ensure a long-term solution.
No-Compromise Hardware

Non-stop normal operation
Powerful software demands high-performance hardware and resources. With the 5big Office+, LaCie made no compromises. The dual-core 1.6GHz Intel 64-bit Atom processor and 2GB of RAM ensures maximum simultaneous data access by employees. You also have enough resources to efficiently execute daily backups for all the 25 PCs in your company. This muscular hardware configuration gets the job done. No need to settle for less.

Boost network speed with Link Aggregation
Go fast with a Gigabit Ethernet port. Go even faster with two Gigabit Ethernet ports. Increase the speed of your network with link aggregation of the two Ethernet ports. This lets you improve information sharing and backup speeds throughout the company.


Efficient cooling for a long-lasting product
The cooling system can have a dramatic impact on the long-term reliability of your server. The 5big Office+'s dual cooling is the best protection against overheating throughout its lifespan. First, its solid aluminum casing diverts and dissipates heat effectively. Second, its whisper-quiet, thermo-regulated Noctua fan automatically adapts its spinning speed to the internal temperature. As a result, the fan cools the components, which is vital for a better long-term investment.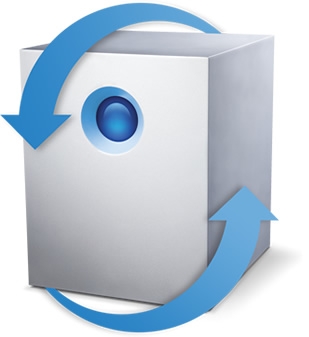 Complete Data Protection. Simplified.
Protection against any calamity, including human error
Your business data are sensitive, and protecting them is paramount. The 5big Office+ secures your files at every point, taking human error out of the equation. It automates backups of your office's computers, from individual files even open ones to the entire system. Simply install Connector the backup client software on your office's computers, then the 5big Office+ does the rest. No further configuration required. What's more, support for incremental backups means that only changed or new files are backed up. Combine this with PC backup data deduplication, and you're truly getting the most out of your capacity.

Restore any file or even an entire system
With Windows Storage Server 2008 R2 Essentials, it's easy to restore a file or even a complete workstation operating system. Thanks to robust versioning management, you can prevent data loss in the case that an employee accidentally deletes an important file. You can even browse through all saved files and select the one you want to restore. What's more, if a workstation's hard drive fails, you can restore the entire system. A simple wizard helps you to create a reinstallation DVD or USB key. This lets you restore the damaged system to the exact state captured in the latest backup. Complete system restoration. Hassle-free.


No data loss. No downtime.
The 5big Office+ supports secured RAID 1 and RAID 5 modes for automatic, hardware-level protection. If a single disk fails, you can replace it without turning off your appliance. Just swap in a new one without losing a single byte of data. What's more, even in the case of an Ethernet link failure, your server always remains available. The failover feature automatically routes transfers from the failed Ethernet link to the other one. Whatever the challenge, zero data loss, zero work interruption.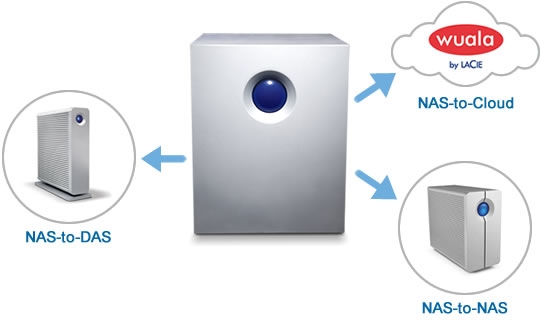 Distance your data from threats
For an additional level of data protection, back up your data to an offsite location. Prevent local technical problems or acts of God from causing downtime with NAS-to-DAS backups. Simply set up automatic backups to a connected DAS, which you can then take away to a safe place. Or, eliminate the need for human intervention and automate this task with NAS-to-NAS backups. This lets you schedule frequent backups to another NAS located in another room or building. Going even further, the 5big Office+ integrates Wuala, LaCie's secure Cloud storage service. So now you can back up your critical data to the Cloud.
Sharing Done Right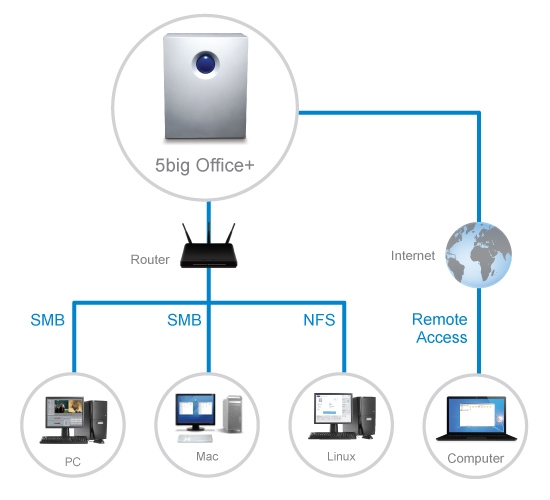 Facilitate employee collaboration
Sharing information within a work group should be straightforward regardless of the tools used. The 5big Office+ helps a business group to collaborate like no comparable NAS. It can serve files to any operating system PC, Mac, or Linux, on the network. Employees can even access files stored on the NAS from the road using Windows' remote access feature.
Bridge the gap between multiple offices
more

Harness the Cloud for secure and collaborative storage
more

Easy Configuration. Low Maintenance.

Painless integration
Integration into your infrastructure is as simple as ABC. No network knowledge is required to start. Simply connect the 5big Office+ to your network, run the utilities DVD, and configure automatic backups. It takes just a few clicks. The Dashboard gives you quick access to key tasks. Control RAID management, user management, or backup status in the blink of an eye.

Easy user and group import and management
Dramatically simplify how you manage users and groups with Active Directory and Windows domain support. It only takes 30 seconds to join the 5big Office+ to an existing domain. Users, groups, and permissions can then be quickly imported and synced from your existing Windows infrastructure. Once set up, you will never need to do it again. Zero repetitive tasks.

Low maintenance
Hard drives need to be replaced when they are full. With the 5big Office+, you can slide in a new one without needing to hit the power button first. You can install higher capacity drives to add storage, or replace a failed drive, all with no downtime.

Help When You Need It
Your LaCie 5big Office+ is protected by a three-year limited warranty. It includes comprehensive, complimentary web-based resources, expert in-house technical support, and worldwide repair/replacement coverage. Advance Care Option can also be purchased. For details, see www.lacie.com/warranties.
* See here for list of compatible drives
** Includes three months of 100GB of Wuala storage, free of charge. Can be extended according to Wuala's pricing.
| | |
| --- | --- |
| Item Number: | 9000203 |
| Capacity: | |
| | |
Interface:
2 x Intel Gigabit Ethernet 10/100/1000 Base-TX
Dual link aggregation IEEE 802.3ad
Network Protocols:
Files server: SMB, NFS, FTP
Other: DHCP Client, IPv4, IPv6
Operating System:
Windows Storage Server 2008 R2 Essentials
Processor/Memory:
Dual-core 1.6GHz Intel 64-bit Atom processor
2GB RAM
Compatible drives:
See here for list of compatible drives
Expansion Ports:
1 x eSATA
3 x USB 2.0 (type A)
VGA
Maximum Users:
25
RAID Modes:
0, 1, 5, 5+spare
Backup Tools:
Deployable PC server connector for continuous system and data backup
Bare-metal PC and server recovery using DVD or USB key
File-, folder-, or system-level restore
Versioning management
Back up 5big onto DAS or NAS targets
Special Features:
Wuala secure online storage: back up, sync, and share
Remote desktop services
PC health monitoring
Printer sharing
Distributed file system (DFS-N and DFS-R)
Expandable with add-ons
Administration:
User-friendly dashboard
Shares and users configuration
Disk management
Native integration with Windows domains (Active Directory)
Environment & Power:
Energy-efficient process with Level V power supply
Recyclable: Aluminum, ROHS compliant
Cooling System:
Solid aluminum casing for superior heat dissipation
High-performance Noctua magnetic levitation fan
Dimensions (WxHxD):
173 x 220 x 196 mm / 6.8 x 8.6 x 7.7 in.
Weight:
Single disk: 4.7 kg / 10.4 lbs.
Five disks: 7.6 kg / 16.8 lbs.
Comments:
* 1TB (Terabyte) = 1000GB. 1GB = 1,000,000,000 bytes. Total accessible capacity varies depending upon operating environment (typically 1015% less).
Warranty:
3-Year Limited Warranty
Specications and appearance are given as guidelines and may change without notice.